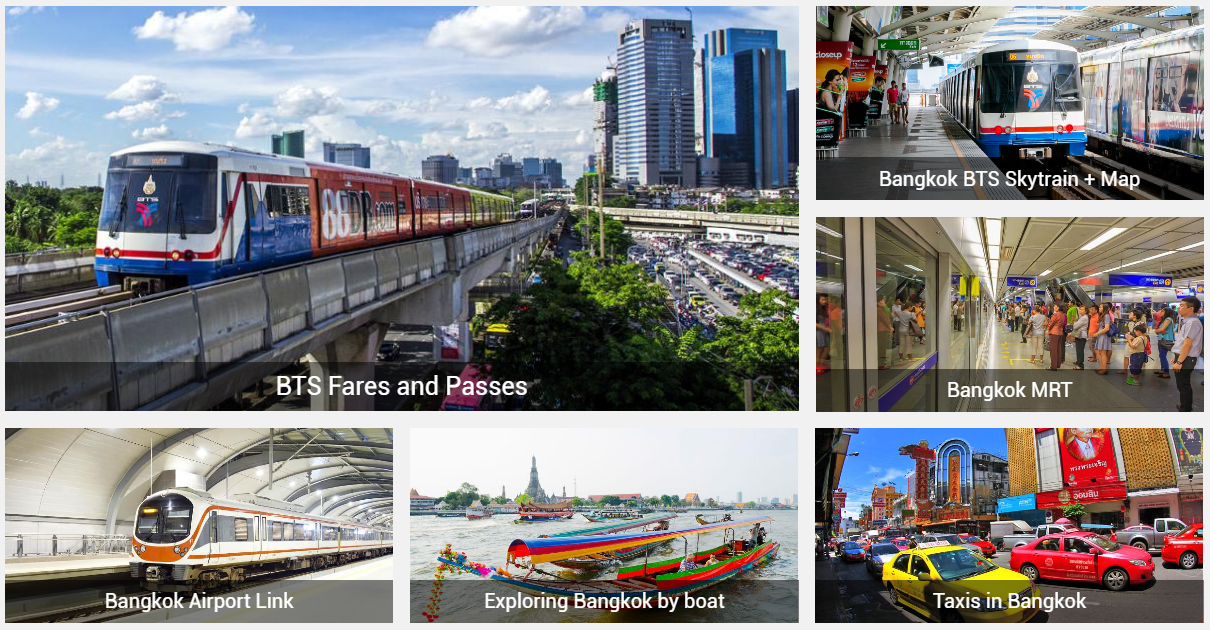 BTS:
The BTS is undoubtedly the swiftest way to get around, and can whisk you right where you want to be in no time at all. It's a cheap, smooth, cool, clean, fast and scenic way to enjoy Bangkok. Note that Service runs between 06:30 and midnight, and the trains can be packed during peak hours (07:00 - 09:00 and 16:00 - 19:00).
Fares and Skytrain Passes
The BTS Rabbit cards are used to access all stations. Fares start at 15 baht per one stop. A one-day pass may be a good option for those planning to do a lot of hopping on and off for one full day. But if you plan to be in Bangkok for a while, it might be a good idea to buy the BTS Smart Pass.
One-day Pass
Unlimited travel within the duration of a single day for 120 baht. Ideal for tourists.
Standard Rabbit Card / Stored Value Cards
These are available for 100 baht plus 50 baht refundable deposit. The Standard Rabbit Cards are valid for 5 years and can be filled with a minimum of 100 baht and up to 4,000 baht.
30-Day Pass for Adults
- For 15 trips (use within 30 days), 25 baht per trip unlimited distance, it costs 375 baht.
- For 25 trips (use within 30 days), 23 baht per trip unlimited distance, it costs 575 baht.
- For 40 trips (use within 30 days), 21 baht per trip unlimited distance, it costs 840 baht.
- For 50 trips (use within 30 days), 20 baht per trip unlimited distance, it costs 1,000 baht.
For more information contact the BTS hotline: +66 (0)2 617 7300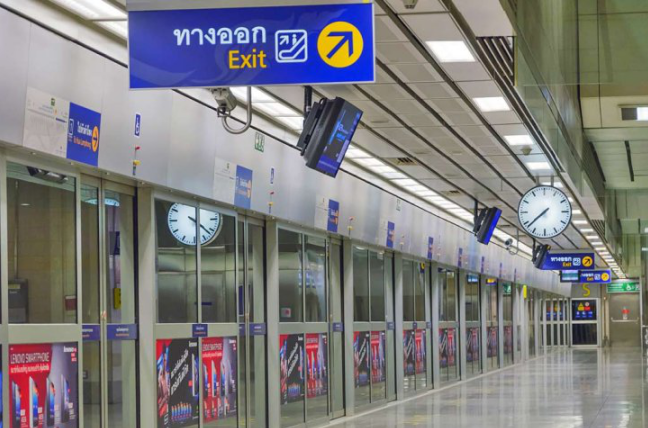 MRT:
Fast and efficient, the Mass Rapid Transit network (MRT) serves 18 stations and stretches for 20 km in a horseshoe shape from Hua Lamphong in the South (near Chinatown) to Bang Sue in the north. Trains arrive every 5-7 minutes, and connect to the BTS Skytrain at Sukhumvit and Silom stations.
Bangkok MRT Route Guide
The Bangkok MRT underground runs underneath Rama IV and Ratchadapisek Roads, the two thoroughfares that cut through the heart of downtown Bangkok. Although additional lines and extensions are in the pipeline, it currently only comprises the blue line, serving 18 stations from Hua Lamphong to Bang Sue. Trains every five minutes in peak times (07:00 - 09:00, 16:00 - 19:00) and every seven minutes at other times.
Other Useful Information
The MRT underground service hours is 06:00 – midnight
Parking is provided at seven stations: Sam Yan, Sukhumvit, Phetchaburi, Thailand Cultural Centre, Huai Khwang, Ratchadaphisek and Kamphaeng Phet. All stations have facilities (lifts) for disabled people.
The MRT underground's Stored Value Cards are not compatible with the BTS Skytrain or Airport Rail Link. You must purchase the passes separately.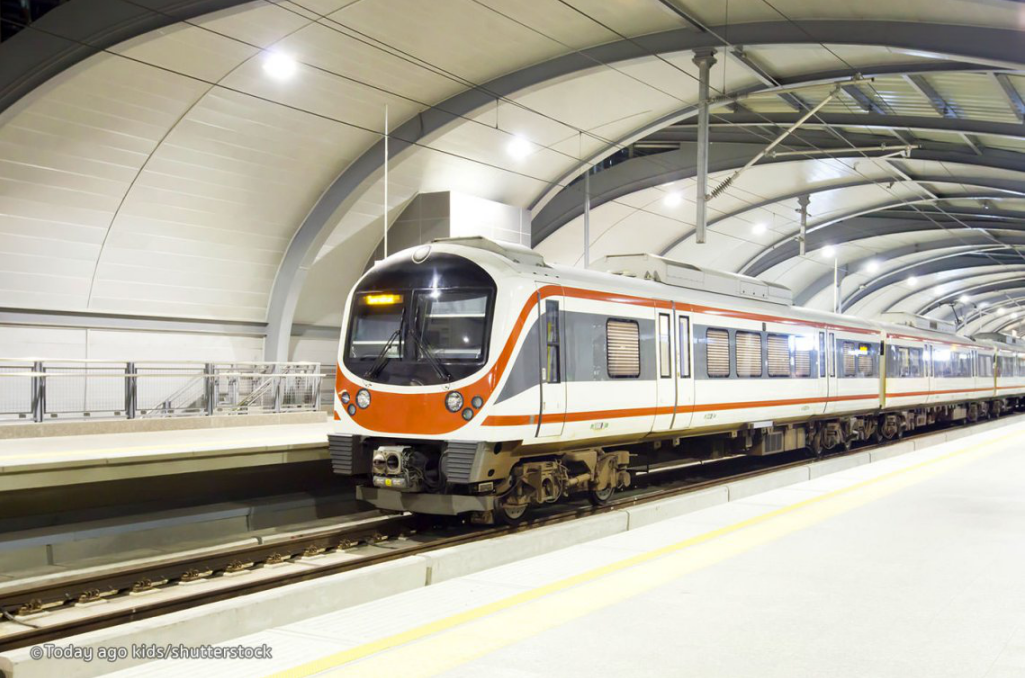 Bangkok Airport Link:
The Bangkok Airport Rail Link (06:00-midnight) that connects downtown Bangkok with Suvarnabhumi International Airport is a smart alternative to the airport's express buses or taxis. The City Line makes six stops between downtown (Phayathai Station) and the airport, completing each run in 30 minutes, making this a quick and convenient transport option for getting in and out of Bangkok.
The Airport Rail Link connects you to the MRT underground at Makkasan City Interchange Station (MRT Petchaburi Station) and the BTS Skytrain at Phayathai Station. Please note, the baggage check-in at Makkasan Station is no longer available.
From Bangkok International Airport (Suvarnabhumi), the entrance to the Airport Rail Link service is on the First Floor.
Airport Rail Link Route Guide
The Airport Rail Link SA City Line begins at Phayathai Station in downtown Bangkok.
- SA City Line - 45 Baht
Phayathai > Rathchaprarop > Makkasan > Ramkhamhaeng > Hua Mark > Ban Thap Chang > Lat Krabang > Suvarnabhumi Airport
Fares and Ticketing
There are two types of tickets: single-trip tokens and pre-paid Smart Passes. For temporary visitors, single-trip tokens are more suitable. You can buy your tokens from one of the Automatic Token Dispensers located at every station. Simply select your destination and the number of passengers, and the fare will be calculated based on your input. The machine accepts both coins and bills. Always choose to print out the receipt; you might need it later.
SA City Line: Increment rate starts at 15 baht, maximum 45 baht
You can also buy your tokens from the ticket booth. In this case, always ask for your receipt.
Luggage Check-in
The Check-In Luggage Service at Makkasan Station is closed.
Other Useful Information
The Airport Rail Link service hours is 06:00 – midnight
If you are traveling in a group of three or more, it's more economical and convenient to take a taxi.
The Airport Rail Link's pre-paid Smart Passes are not compatible with the BTS Skytrain or MRT underground. You must purchase passes separately.
The Express Line closed in 2015.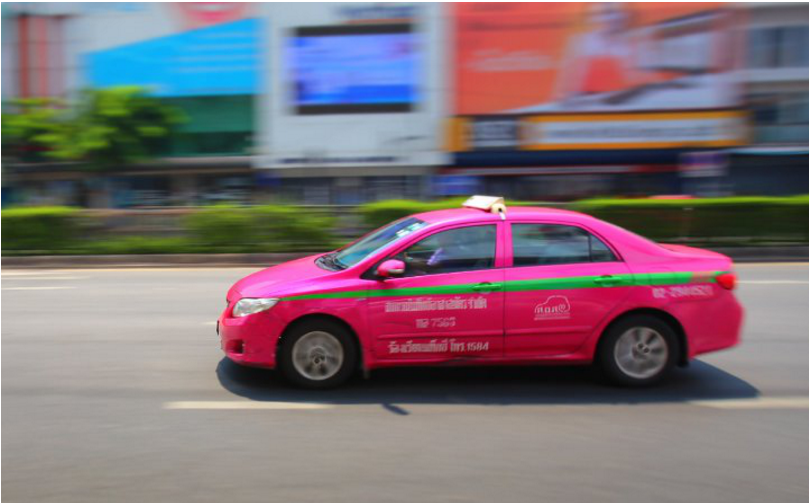 Taxis:
Besides the BTS and MRT, the easiest and most convenient way to get around Bangkok is by taxi. Most taxis are new, spacious and, in addition to the traditional green-yellow and red-blue, they also come in funky colours like bright orange, red and even pink. The fare starts at 35 baht, and stays there for the first two kilometres. Thereafter, the fare gradually works its way up with 2 baht at a time (roughly per kilometre). A surcharge applies in traffic jams (1.25 baht per metre when moving under 6 km per hour). Typical taxi fares for going a few kilometres are around 50 baht. Communication can be a problem with the majority of Bangkok's taxi drivers as they often speak little English.They're cheap and available virtually 24 hours a day. Meter taxis now predominate, but sometimes you may have to politely (but firmly) ask them to switch the meter on to save negotiating later. Since taxis are cheap and the drivers work all hours in traffic that is legendary, a small tip is often appreciated.