The Organizing Committee is pleased to offer hotels with special consideration on security, accessibility, and price. The following hotel is the recommended hotel near the conference venue.
Please see the hotels on their official website or Booking.com for further information and room bookings. It is advisable to book your hotel early. If you want to book room in Pathumwan Princess Hotel, please download and fill in the ''reservation request form'', and then send it to kengkarn@mbk-ht.com(or iksanee@mbk-ht.com, rsvn@pprincess.com).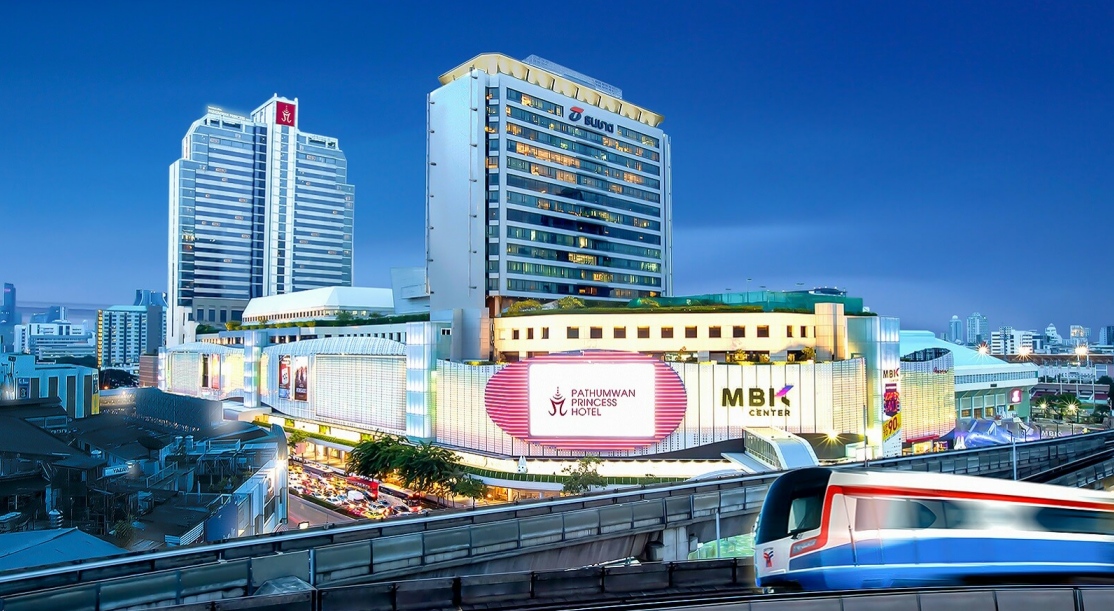 The Pathumwan Princess Hotel thrives in the heart of one of Asia's most dynamic cities. Connected to MBK center and just minutes from Siam Square & Siam Paragon, the area pulsates with energy and creativity, exhilarating and bewildering, tempting and cajoling.
The hotel, too, sits on the doorstep of the city's iconic skytrain, its National Stadium station just a few minutes walk away. This air-conditioned, speedy transit system will whisk visitors to other shopping districts, Sukhumvit, Central World Plaza, the vibrant Chatuchak Market; to the busy, brooding waters of the Chao Phraya river that flows through the heart of the city, and from where many of the renowned temples can be visited; and to the business sectors, banking institutions and embassies.
Address: Pathumwan Princess Hotel, 444 MBK Center, Phayathai Road, Wangmai, Pathumwan, Bangkok 10330
*4 minutes away from the conference venue: Chaloem Rajakumari 60 Building, Chulalongkorn University.
In addition above hotel, we also listed few other hotels nearby conference venue are listed, Chulalongkorn University(CU), the price and other related information is only for reference, the actual price and other information are subject to the booking.com or hotel offical website.



(4 stars) The Siam Heritage Hotel (click to review in booking.com)




Official website

http://www.thesiamheritage.com/

Phone No.

+66 2 353 6166

Address

115/1 Surawongse, Suriyawong, Bangrak, Bang Rak, 10500 Bangkok, Thailand

Distance from CU

By walk:1.5km, 20 min

By public tranportation:30-40 min

Dy taxi: 1.7-2.3 km, 5-8min

Room Price/per night(includive of breakfast)

≥USD 57









(4 stars) FuramaXclusive Sathorn, Bangkok (click to review in booking.com)




Official website

https://furama.com/xclusive/sathorn/

Phone No.

+66 2 266 8030

Address

59 Silom Soi3 (Pipat 2), Silom Rd., Bangrak, Bang Rak, 10500 Bangkok, Thailand

Distance from CU

by walk: 2.3km, 30min

by public transportation: 30-45min

by taxi: 2.8km, 13min

Room Price/per night(includive of breakfast)

≥USD 57









(3 stars) Residence Hotel Silom (click to review in booking.com)




Official website

http://www.iresidencesilom.com/

Phone No.

+66 2 267 9700

Address

93 NaraThivas, Nara Thivas Racha Nakarin Rd., Silom, Bangrak, Bang Rak, 10500 Bangkok, Thailand

Distance from CU

by walk:2.5km, 31min

by public transportation: 27min

by taxi: 2.7km, 9min

Room Price/per night (includive of breakfast)

≥USD 47









(4 stars) Haven't Met(click to review in booking.com)




Official website

https://www.hotel-hm.com/

Phone No.

+66 2 233 4442

Address

188-188/1 Soi Pipat 2 Narativas Road, Silom, Bang Rak, Bangkok 10500, Thailand

Distance from CU

by walk: 2.4km, 30min

by public transportation: 28min

by taxi: 3.2km, 16min

Room Price/per night (includive of breakfast)

≥USD 50