Getting your full paper published
(Submit full paper before 1 October 2019)
If your abstract is accepted and you have paid the registration fee, you are encouraged to submit your full papers.
*Notice: the authors will not be asked to sign any copyright agreement
How to submit your paper
(Conference Proceedings)
*Download the Full Paper Template for proceedings.
*Each paper length size maximum is 6 pages. The publication of your 6-pages paper is free, provided you register and present your paper.
*Prepare your manuscript in English, including all figures, tables, references, and appendices. Please ensure that your manuscript does not contain grammatical and language errors.
*The manuscripts should be submitted as a MS Word document in .doc format as well as PDF.
*Your paper can be submitted to icfmce@iased.org or via Online Submission System before the deadline.
* Please note that the deadline and the maximum size will be strictly followed.
Journals
A selection of authors will be invited to submit full papers for possible publication in a special issue of the journal- Chemical Product and Process Modeling.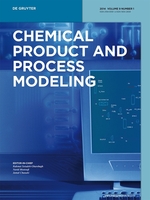 SCImago Journal Rank (SJR) 2017: 0.295